Jeffrey Rudnick

Chief Executive Officer
Jeffrey Rudnick's career began with his family's real estate company, Rudco Properties.  During this period, he oversaw their investment selection and management of office buildings, shopping centers, and malls across the United States.  After eleven years in his family's business, Mr. Rudnick moved on to Dune Capital to run their asset management for both the private equity real estate fund and the real estate investments in the hedge fund.  During his time at Dune, Mr. Rudnick was actively involved in the development and redevelopment of almost 6 million square feet of hotels, condo hotels, condos, and malls valued at almost $4 billion.  In addition Mr. Rudnick closed and managed over $400 million in real estate mezzanine loans.  After his time at Dune, Mr. Rudnick oversaw the global real estate holdings of Paul Tudor Jones.  These included hotel and residential developments throughout the United States, Costa Rica, Tanzania, Zimbabwe, and Zambia.  In 2011, Mr. Rudnick started working with Medallion Financial Group as the senior adviser to the President of Medallion, leading efforts in research and identification of alternative investment strategies for the company.
Mr. Rudnick received his BA from Duke University, his MBA from NYU - Leonard N. Stern School of Business, and his MS Real Estate from NYU - Schack Institute of Real Estate.
---
Tom Dissette
Senior Vice President
Tom Dissette is currently the Senior Vice President of the NY Lizards and has been with the team since 2013.  He began his career with the New York Mets and gained extensive experience over eight years, being promoted three times within the Ticket Department.  Continuing his passion in sales he joined the New York Islanders as the Manager of Corporate Sponsorships.   
Tom was born in Cleveland, OH and grew up in Sarasota, FL.  He graduated with his Bachelor's Degree in Sport Management from Flagler College in St. Augustine, FL.  Accomplishing over 15 years in the sports industry, he specializes in Sponsorships, Sales, Operations, and Management.  He currently resides in Old Bethpage, NY.
Contact Tom:
Email: 
TDissette@NYLizards.com
 | Office: 516-742-1180 x307
______________________________________________________________________________________________________________________________________________________________________________________________________________________
Jonathan Osmun
Director of Ticket Operations
Jonathan is a skilled sales executive with an entrepreneurial background in retail start-ups.  He is growth focused and results driven with proven expertise in spearheading corporate development, optimizing company sales and leading marketing initiatives for multiple business operations.  Prior to joining the Lizards, Jonathan successfully launched and developed a centralized inside sales department that served multiple business locations in the automotive industry.
As a lifelong sports enthusiast and avid fan of the game, Jonathan is excited to join the Lizards family and to have the opportunity to work in the lacrosse industry.  He graduated with a Bachelors degree in English from the State University of New York at Cortland.  It was here that his passion for rugby began.  After college, Jonathan went on to play competitively for 15 years before taking over as the Head Coach at The United States Merchant Marine Academy in Kings Point.  After 5 years and a Division 1 ranking of #4 in the northeast and #11 nationally, he left to coach football & lacrosse for Harborfields Youth Sports.  Jonathan grew up in northern Westchester County before moving to Huntington to raise a family with his wife Joy.  They have two children, Heather & Jonathan, and a Golden Retriever named Daisy.
Contact Jonathan:
Email: 
josmun@nylizards.com
 | Office: 516-742-1180 x304
---
Michael Charyn

Associate Director of Operations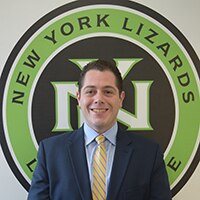 Born and raised in Bayside, Queens. Michael graduated from St. John's University with a Bachelor's of Science in Sports Management in 2014. Michael's passion for sports began after winning two tickets to a Mets game when he was just eight years old. Prior to joining the Lizards, Michael spent time interning with the Brooklyn Nets in the operations department. 
Michael joined the Lizards organization as a sales and marketing intern in the spring of 2014. Upon completing his internship, Michael was offered a part-time position, which lead to a full-time position in August of 2014. In his free time, he serves as a volunteer EMT in his neighborhood in Queens.  
Contact Michael: 
Email: 
MCharyn@NYLizards.com
 | Office: 516-742-1180 x302
---
Tom Bodamer
Senior Account Executive
Tom was born and raised in Islip, New York where he attended Sachem East High School. He graduated from St. John's University in 2015 with a Bachelor's of Science in Sports Management and has worked in sports since he was 16 years old starting out with the Long Island Ducks as a part-time store associate.
Since then, Tom has interned for the New York Cosmos, Rockland Boulders and in 2013 for the New York Lizards which turned into a part-time role in 2014. Tom joined the team full-time in 2015 as a ticket sales representative. He now serves as a Senior Account Executive.
Contact Tom:
Email: 
TBodamer@NYLizards.com
 | Office: 516-742-1180 x310
______________________________________________________________________________________________________________________________________________________________________________________________________________________
Alysa Cirelli
Digital Media Coordinator & Dance Team Head Coach
Alysa was born and raised in Brooklyn, NY. Alysa graduated from Wagner College with a Bachelor's in Science in Arts Administration and Marketing in 2015. Alysa's love for lacrosse began when she made the New York Lizards Dance Team in 2015 and cheered on the sidelines for 3 seasons. During this time, she started to work for Wagner College Athletics and the Wagner College Cheerleading team. She then put her creativity towards social media and production and developed a passion for sports entertainment. 
Before working for the Lizards, Alysa had interned with two of the most prestigious talent agencies in NYC, Clear Talent Group and Wilhelmina Models. She then became a booking agent assistant at MMG-NY, booking many talented models, actors, and dancers on jobs. She has also worked for iHeartMedia in the corporate office in midtown Manhattan. 
Contact Alysa:
Email:
Acirelli@nylizards.com 
| Office: 516-742-1180 x320
______________________________________________________________________________________________________________________________________________________________________________________________________________
Jessica Garcia
Sales and Marketing Associate
Jessica was born in Jackson Heights, Queens, New York and was raised here on Long Island in Baldwin with her parents, younger brother, David, and her two dogs, Tinkerbell and Blitz. She attended Baldwin Senior High School where her passion for sports grew into a career. While attending Baldwin, she was a three-year varsity lacrosse player, managed the football team all four years for both Junior Varsity and Varsity, and interned with Baldwin's Athletic Director her senior year. Jessica recently graduated from East Stroudsburg University of Pennsylvania (ESU) with a Bachelor of Science degree in Sports Management. While attending ESU, she was the President of the Sports Management club and a proud sister of Sigma Sigma Sigma Sorority.
Jessica just prior to joining the Lizards organization as a Sales & Marketing Associate, was a sales and marketing intern in the spring of 2018. Before interning with the NY Lizards in August 2017 she was selected to be a participant by Living Sports LLC to travel to Barcelona, Spain and assist in organizing the Red Hook Criterium 5th Annual International Bike Crit.
Contact Jessica:
Email: 
jgarcia@nylizards.com
 | Office: 516-742-1180 x301