Joe Spallina
General Manager & Head Coach

2012 Brine Coach of the Year
Joe Spallina is in his fifth year as the Head Coach of both the New York Lizards and the Stony Brook Women's Lacrosse Team. During his first season with the Seawolves, the Stony Brook women celebrated their first ever win against a ranked opponent, defeating No. 20/17 Johns Hopkins. The following week the team received their first ever national ranking, coming in at 19 in the Inside Lacrosse/deBeer Media Poll. Prior to Stony Brook, Spallina spent his previous four seasons at Adelphi University, where he posted a 73-2 record and recorded three consecutive Division II National Championships (2009, 2010, 2011). He has been named the IWLCA National Coach of the Year three times and the Field Turf NCAA Division II Coach of the Year in 2009.
Joe is entering his seventh season with the Lizards, serving as the assistant coach for two seasons before being named the head coach in 2012. During his first season as head coach of the Lizards in 2012, Joe led the team to a playoff spot, before a heartbreaking 13-12 loss to the Denver Outlaws during the semi-final matchup. He was named the 2012 Brine MLL Coach of the Year. Spallina played college lacrosse at Adelphi University for four years, where he won two Division II National Championships. Spallina resides in Rocky Point with his wife, Marybeth, and their five children.
---
Keith Cromwell
Assistant Head Coach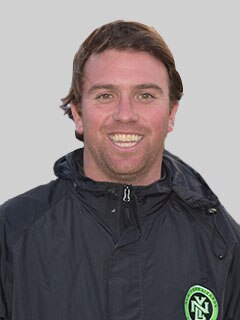 Keith Cromwell is a 12 year veteran of the MLL, playing for the Bridgeport / Philadelphia Barrage and Long Island Lizards and was named MLL Rookie of the Year in 2001. He was also an 8 year veteran of the NLL playing for the Philadelphia Wings and Minnesota Swarm.  As a high school varsity assistant coach at Manhasset HS from 2007-2011, guiding the Indians to NYS Championships in 2009 and 2010.  After Manhasset, returned to his alma mater, Rutgers University, coaching the Scarlet Knight offense in 2011 & 2012. Cromwell's awards include: 1998-2001 Rutgers University-All Time Leading Scorer in RU History, 266 Career Points (152 Goals/114 Assists), 3x All-American, 2001 MLL Rookie of the Year, 2004 MLL Championship, Ranked #5 MLL All Time Assist Record (127), Former Asst. Coach Yale University, Offensive Asst. Coach Manhasset HS (2x State Championship), Offensive Asst. Coach Rutgers University, and 2013 Inductee Long Island Metro Hall of Fame. Cromwell joined the Lizards as a coach in 2013.
---
Steve Duffy
Assistant Head Coach
Steve Duffy is currently an elementary school Assistant Principal in Waltham, MA where he was a teacher and lacrosse coach for 18 years. While coaching in Waltham, he was named Metro West Coach of the Year in 2001 and 2005 when he led his team to the state semifinals and finals, respectively. In 1999 he received the Boston Globe and Eastern Massachusetts Lacrosse Coaches Association Coach of the Year Awards. For these accolades and long dedication to the Waltham HS program, Duffy was inducted into the Waltham High School Hall of Fame.
Duffy was named an Assistant Coach for the Boston Cannons in 2009. In 2011, his final year as an Assistant with the Cannons, they were crowed MLL Champions and awarded the Steinfeld Cup. In 2012, he was named the Head Coach of the Cannons and led them to the playoffs in his inaugural season. He finished his stint with Cannons in 2013 with a recorded of 10-10. Duffy joined the Lizards in 2014.
He is still actively involved with youth coaching, clinics and camps in Eastern Massachusetts and Founded the Waltham Youth Lacrosse Program in 1994 to further foster the sport's development in his hometown. He currently resides there with his Wife, Marianne, a 1
st
 grade teacher, son Jack, and daughter, Gina.
---
Tommy Susko
Assistant Coach
Tommy Susko, an assistant coach of the Adelphi men's lacrosse team, is starting his fourth season with the Lizards. Prior to joining the coaching staff in 2013, Susko was a member of the team.
As a midfielder, he played in 18 games and was first on the team in and in the Northeast-10 conference in goals (41) and tied for third in points (48). In just one year, he earned honors in the form of NE-10 All-Championship Team, Donald E. Kohart Memorial Award (presented to the most outstanding offensive player on Adelphi's lacrosse team), NE-10 and ECAC Player of the Week and National Student-Athlete Award for achieving excellence in academics and athletics. He also ranks tied for ninth in the record books in single season goals.
Before transferring to Adelphi, Tommy attended Molloy College. At Molloy, Susko was a four-year started and received his bachelor of arts in history. Currently, Tommy is pursuing his second masters in Sports Management at Adelphi.  
---
Darrin Schirtzer
Team Operations Manager
Darrin is entering his fifth season with the Lizards. In addition to serving as the equipment manager for the Lizards, Darrin also coaches Team 91's Crush with head coach, Joe Spallina. Last year, The Crush won the Dicks U-11 National Championship. Darrin grew up in Bohemia and attended Connetquot High School.  
---
Andrew Alderman
Assistant Equipment Manager
Andrew "Mookie" Alderman has been a staff member with the Lizards since their inception in 2001. In addition to working with the Lizards, Mookie also worked with the NY Titans professional indoor lacrosse team before they moved to Florida in 2010, 
the New England Black Wolves 
professional indoor lacrosse team, 
and has been afforded the opportunity to work on the sidelines and attend clinics with other local sports teams including the Islanders, Mets, Yankees and Nets. 
In 2014, Mookie played with and assisted the Israel Men's Lacrosse Team, a team he has been involved with since their inception, at the FIL World Lacrosse Championships in Denver. During his college career, Mookie played NCAA Division II lacrosse as a crease attackman for the Adelphi Panthers in 2008 and 2009. A long Island native, he helped lead the East Meadow High School lacrosse team to the summer championship in 2007. 
Mookie received his bacehlor's degree in Physical Education from Adelphi University and is currently pursuing his master's degree in Health Education at Hofstra University. In addition to pursuing his master's degree, Mookie teaches 
Physical Education & Health 
and coaches youth lacrosse in 
various
 school dis
t
ricts 
in Nassau & Suffolk counties.