Suites are the perfect venue to host your next corporate or social group outing.  Tailored to you and your guests' desired experience, the Suite atmosphere offers a private setting from which to enjoy the very best in live sports and entertainment. Whether hosting an intimate affair, celebrating with a large group, rewarding employees or conducting a business meeting, make the New York Lizards your next destination for an unforgettable game day experience.  
FEATURES AND AMENITIES
·         Comfortable suite style theater seating
·         Diverse catering options of all-inclusive food and beverages
·         Access to Suite level only private restroom
·         Climate controlled interior
·         Private Suite Entrance, elevator and concourse
·         Flat Screen Television
·         Dedicated suite attendant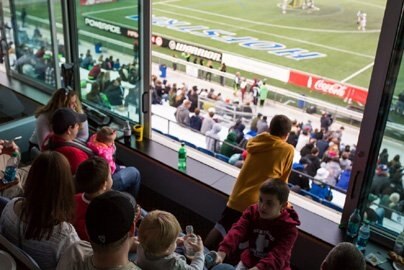 For more information or to reserve your seating now please click
HERE
or call 1-855-NYLizards.
All sales are final and non-refundable. Standard service fees apply to online or phone orders. Use of this website signifies your agreement to the New York Lizards ticket policies. In the event of rain, the New York Lizards of Major League Lacrosse will continue play through the rain. Should there be thunder and/or lightening, the game will be stopped and play will resume 30 minutes after the last sight/sound of thunder and/or lightening. If the game cannot be played due to weather, act of God, or any other reason, your ticket will allow you entrance to the rescheduled game. Tickets cannot be exchanged for cash value or refunded.